Sustainability is critical in our modern world. Indeed, we live in a time where environmental challenges, increasing pressures from climate change, and concerns over quality of life are paramount. 
However, sustainability appears to be on track to continue developing in a way that does not harm future generations and does not reduce life quality. It's the ability to grow while minimising environmental impact. It's frequently regarded as an innovative solution, but it doesn't have to be a futuristic concept.
Simple adjustments in architecture and building design can make a big difference. Recycled and recovered materials, for example, can be used to enrich the design while keeping the building's conventional functionality and ensuring that the structure complies with environmental requirements as well as goals.
Sustainability is often measured on a ranking system to evaluate how green a city or individual building may be. One common scoring system used globally for buildings is the leadership in energy and environmental design (LEED), which offers rankings between bronze to platinum, while a separate system measures energy usage. However, one building in particular that excels in terms of sustainability is the Bank of America tower – a staggering sight on our landscape that's surprisingly green and eco-conscious.
Why Is The Bank Of America Tower Sustainable?
The Bank of America Tower in New York City is one of the most sustainable buildings in the world thanks to its use of green design and efficient technologies. It uses wind turbines, PV panels, smart HVAC systems, and a cogeneration plant. In combination with sustainable design and materials, the building was able to achieve the LEED platinum rating.
What Is The Bank Of America Tower?
The Bank of America tower is a 55-story skyscraper located in Manhattan, New York. The building reaches 370m or 1200 feet into the air and is New York's eighth tallest building, and the tenth tallest building in all of North America.
The building was designed with sustainability in mind by Cookfox and Adamson Associates, in conjunction with the Bank of America. The tower comprises approximately 2.1 million ft² or 200,000 m² of office space, of which a large majority is used exclusively by the Bank of America.
The exterior of the Bank of America tower offers a bold aesthetic, with insulated glass panels lining the building. Inside, there is an atrium for the public to gather, as well as the Stephen Sondheim Theatre incorporated into the base of the building, which takes up the whole floor. The cost of the project was around $1 billion USD, and construction ended in 2009. The building received a LEED platinum green building status, although it unfortunately only scored a C on the city-wide energy measuring scheme due to concerns around high energy usage.
There is a wide range of transport links and infrastructure in this district of Manhattan. Directly opposite the Bank of America Tower is a subway station with links across the city. The building uses a modern and airy design language that suits the business needs of the company. The design is unique as the exterior of the building uses chamfered edges and incorporates open space with enclosed offices.
Factors Influencing The Bank Of America Tower's Sustainability
There are two major concepts that affect the sustainable performance of a modern commercial building: technology and design. In the following paragraph, we will go into further detail on how these contribute to the Bank of America Tower.
The bank of America Tower features a range of technologies that have been integrated into the design language of the building. Specifically, a wind turbine has been installed on the northern side of the building to capture airflow that accelerates through the skyscrapers at this altitude, helping to offset some of the energy used by the building.
Another area where the building has tried to implement technology into the design is building-integrated photovoltaics (BIPVs), which help generate small-scale electricity for the building. These are located just above the entrance, helping to create electricity from the reflected sunlight from some of the building's chamfered facades. The double-glazed walls drastically help increase the amount of sunlight these panels receive.
In addition, the tower uses a cogeneration plant to provide around 70% of all its energy needs, equating to approximately 4.6 megawatts, powered by natural gas. This system powers the offices and lighting of the building. A portion of the energy generated for this building comes from a 1000-gallon tank of organic waste which uses methane gas to provide 75 kilowatts of energy from renewable sources.
Internally, the basement of the building is converted to create ice for the air conditioning units, which have a lower energy consumption during the night, allowing cool air to circulate during the next day. Notably, these air conditioning units are controlled via smart controllers so that they are only used when needed, helping to reduce energy consumption. Meanwhile, to heat the building, groundwater in the bedrock is naturally kept at approximately 12 degrees Celsius, so heat can be drawn from it during the winter whilst any excess heat is absorbed during the summer months. This factor also aids with cooling the building.
The Bank of America Tower also uses approximately 45% less water consumption from the city's system due to the installation of rooftop water systems which capture rain for re-use. This equates to around 2.6 million gallons of water a year which can be used to flush the building's toilets and, as such, only wastewater is sent to the city's sewer system. The rest is filtered and re-used, saving consumption and reducing sewer outputs by 95%.
The Bank of America Tower is the first building in the United States to be designed in accordance with the leadership in energy and environmental design (LEED). As such, the design earned it a platinum status.
This design has paved the way worldwide, showing that sustainable design can be used in skyscrapers and high-rise buildings. However, the energy-efficient design pushed up production costs by 6.5%, but the return on investment here is such that the building saves approximately $3 million annually in energy bills and increases productivity by $7 million. 
Another aspect of sustainable design is using insulated glass panels to regulate the ambient temperature of the building. This allows rooms to remain cool in the summer and warm in winter. This glass curtain was inspired by New York Crystal Palace, a nineteenth-century exhibition building. The various glass curtain walls help to allow around 75% of visible light to enter the building while reflecting all ultraviolet wavelengths. The other function of these glass walls is to keep heat out of the building during the summer and keep heat in during the winter.
Sustainable design also means using reclaimed materials. As such, many of the office spaces use reclaimed laminated wood and steel to help reduce the impact on the environment and offer a uniquely modern approach to office spaces. This is often hard to incorporate since using reclaimed or recycled materials may reduce some of the design choices available.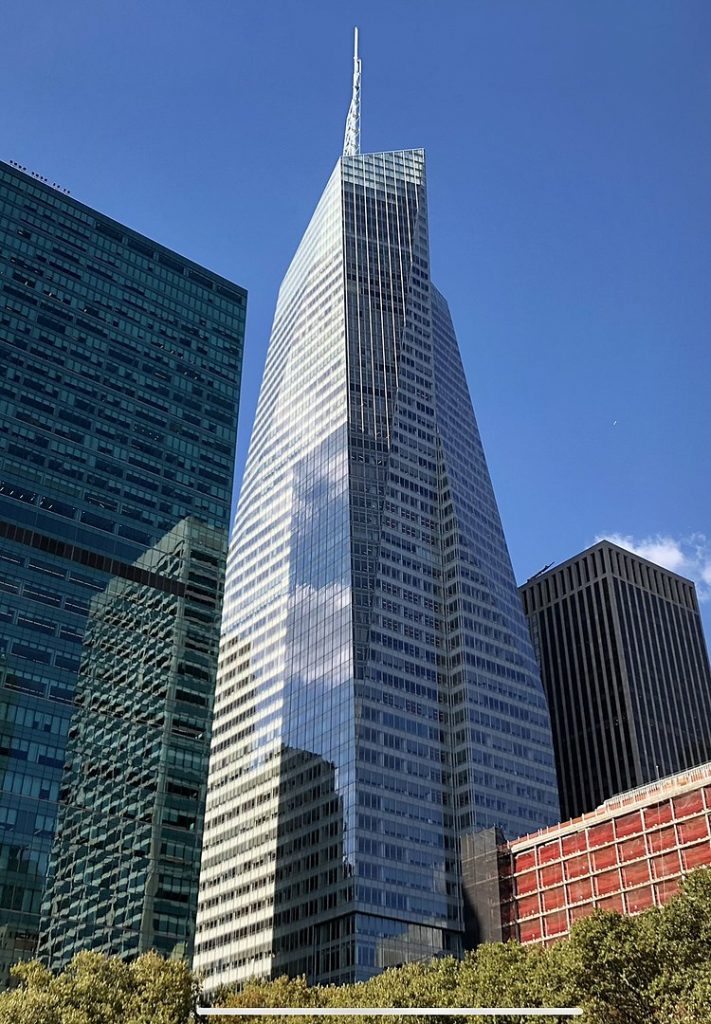 By Chris6d – Own work, CC BY-SA 4.0, https://commons.wikimedia.org/w/index.php?curid=94905761
Why Sustainable Buildings Are Needed
Sustainable buildings are needed to help reduce the impact on the environment skyscrapers and high-rises have. This means using alternative building resources such as reclaimed materials. These could include laminated wood, glass, plastics, and metals. Hence, the building's construction and strength are often similar, if not identical. Still, energy and extra resources haven't gone into creating building materials where they could instead be recycled or re-used.
Sustainable buildings are vital for ensuring that future generations can continue to develop without impacting the environment. As a result, environmental pressures are becoming increasingly prevalent, and global attention has moved towards making all areas of society more environmentally conscious and less damaging.
Cities are often perceived as having poor energy efficiency and are often polluting, but this can be tackled by adopting greener techniques such as using renewable energy, intelligent building design, and recycled materials. These all aim to reduce waste outputs in the construction process and the building's lifetime while it is being used.
Another important aspect of sustainable buildings is that the concept has been shown to work, and many other cities are now beginning to convert and construct sustainable structures. The disadvantages, on the other hand, are the high cost of creating sustainable architecture. Alternative building materials can cause design and construction challenges, but cities should be willing to take this step to ensure the future of sustainable city life.
In our modern society, there are more pressures than ever to provide people with cultural, environmental, and economic resources, a premium quality of life, and improved health. Sustainability isn't solely about the environment, but all of these factors combined.
By ensuring these needs are met, sustainable buildings can offer more than just a benefit for the environment. This may mean the introduction of sustainable spaces to improve productivity, better working surroundings, improved health, and reductions in pollution, noise, and emissions throughout construction and during the lifetime of the building.
Ultimately, sustainable buildings are important for modern cities and those developing. Without sustainable design and sustainable technology working together, many cities could fall behind in the race for greener architecture and infrastructure. 
The Bank of America Tower is one popular example of how sustainable buildings can be designed and created. It shows that with time and careful design, these buildings can become the future for major cities across the globe. As such, with increasing pressures from climate change, now could be the time for other architects, engineers, and developers to begin thinking about how they could improve the carbon footprint of their next building projects.
If you want to learn more about sustainable real estate, smart buildings, and smart cities, feel free to take a look at our other blog articles.