Real Estate Investment Trusts, also known as REITs, have been gaining popularity worldwide since their beginning in the United States in the 1960s. Many advantages such as diversification, liquidity, return, and more have convinced investors to establish these structures in additional countries. 
The first UK REITs started to exist in the early 2000s when the Finance Act 2006 was introduced. It created a rulebook for these financial instruments and consequently made it possible to invest in REITs in the UK.
Nowadays, there are many different UK REITs that can be a potential addition to one's investment portfolio. In the following article, we will explain how these companies work, what kind of rules exist in the UK, and provide you with five options that can be worth looking at.
What are the Largest REITs in the UK?
Segro PLC – £10 billion
Land Securities Group PLC – £5.2 billion
British Land Company PLC – £4.1 billion
Unite Group PLC – £4.0 billion
Tritax Big Box REIT PLC – £3.0 billion
How does a UK REIT Work?
To understand the market for real estate investment trusts in the UK, it is important to know what qualifies as a UK REIT. There are certain rules, very similar to the US, that a company needs to follow if it wants to function in this industry. The REIT needs to… 
… be publicly listed
… pay at least 90% of the property income to shareholders annually
… hold at least three properties, of which no single property can exceed 40% of the entire portfolio value
… relate at least 75% of their gross assets and 75% of their accounting profits to the property sector
… maintain a profit : financing-cost ratio higher than 1.25:1
These overall requirements and some more detailed ones that weren't mentioned yet, apply to UK REITs and might change over time. Not only is this information important when establishing a REIT, but it is also relevant for investors that are planning to enter the market.
How Many REITs are there in the UK?
According to the London Stock Exchange, there are currently 56 UK REITs publicly traded. Their combined market capitalization is more than $70 billion. Just like US REITs, there are different investment companies for different property types including residential, retail, offices, industrial, student housing and more.
List of all UK REITs (LSE): 
AEW UK REIT PLC
Alina Holdings PLC
Alternative Income REIT PLC
Assura PLC
Big Yellow Group PLC
BMO Commercial Property Trust Limited
BMO Real Estate Investments Limited
British Land Company PLC
Capital & Counties Properties PLC
Capital & Regional PLC
Civitas Social Housing PLC
Custodian REIT PLC
Derwent London PLC
Ediston Property Investment Company PLC
Empiric Student Property PLC
GCP Student Living PLC
Great Portland Estates PLC
Ground Rents Income Fund PLC
Hammerson PLC
Hibernia REIT P.L.C.
Highcroft Investments PLC
Home REIT PLC
Impact Healthcare REIT PLC
Industrials REIT Limited
KCR Residential REIT PLC
Land Securities Group PLC
Londonmetric Property PLC
Life Science REIT PLC
LXI REIT PLC
Mckay Securities PLC
Newriver REIT PLC
Palace Capital PLC
Picton Property Income Ld
Primary Health Properties PLC
PRS REIT (The) PLC
Real Estate Investors PLC
Regional REIT Limited
Residential Secure Income PLC
Safestore Holdings PLC
Schroder European Real Estate Investment Trust PLC
Schroder Real Estate Investment Trust Limited
Secure Income REIT PLC
Segro PLC
Shaftesbury PLC
Standard Life Investments Property Income Trust Ld
Supermarket Income REIT PLC
Target Healthcare REIT PLC
Town Centre Securities PLC
Triple Point Social Housing REIT PLC
Tritax Big Box REIT PLC
UK Commercial Property REIT Limited
Unite Group PLC
Urban Logistics REIT PLC
Warehouse REIT PLC
Workspace Group PLC
YEW Grove REIT PLC
Is there a UK REIT Index Fund?
In the US, the Vanguard Real Estate Index Fund Admiral Shares invests exclusively in a variety of US REITs. Contrary, there is no index fund that only focuses on UK REITs. For an investor that wants to enter the property market in the UK with these types of funds, the iShares UK Property UCITS ETF is available. It invests in REITs but also all other major real estate companies in the country.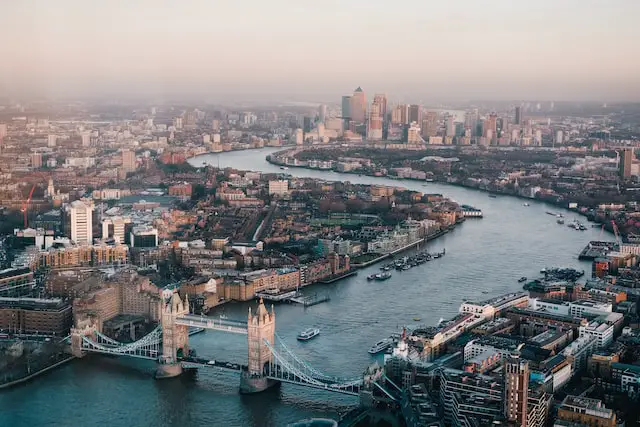 The 5 Largest UK REITs in 2023
To identify the largest UK REITs, we took market capitalisation as our comparing element. It is important to note that these companies don't necessarily need to be the best fit for everyone's portfolio, as the return, dividends and risk are factors that should be taken into consideration as well. Depending on how a portfolio is structured and what its overall goal is, these choices can vary significantly.
The following companies are the 5 largest UK REITs in 2023, according to current market data from the London Stock Exchange (28 Jan. 2023).
1 | Segro PLC – £10,008,700,000
5-Year Return 64.41%
Dividend Yield (2021): 1.70% 
Sector: Industrial
Segro PLC has been successfully transformed into a REIT in 2007. Their focus is on warehouses and industrial properties that are located in important UK and European cities. 
In total, this UK REIT holds 223 buildings in their portfolio of which the majority, 73 properties, are in the United Kingdom, 58 in France, and 28 in Germany. The combined value of these amounts to about £20.48 billion.
Over the past five years, Segro PLC had a 64.41% return and an annual dividend yield in 2021 of 1.70%.
5-Year Return -8.87%
Dividend Yield (2021): 4.70% 
Sector: Diversified (Retail, Office)
The second largest UK REIT is the Land Securities Group PLC with a market capitalisation of £5,201,140,000. Compared to Segro PLC, its portfolio is more diversified and invests in retail properties and offices. 
Regarding the location, Land Securities only chooses buildings that are in the United Kingdom and has a major focus on London.
Within the last five years, their return is about -8.87% and the dividend yield in 2022 equals to 4.70%.
5-Year Return -15.61%
Dividend Yield (2021): 4.10% 
Sector: Diversified (Retail, Office, Industrial, Residential)
British Land Company PLC is the third largest UK REIT. With its investments in campuses, retail, offices, urban logistics, and residential, it becomes clear that the goal is also to create a diversified portfolio, rather than a specialised one.
All of the properties are located throughout the UK, but a major part of them is situated in London. The entire portfolio of British Land Company PLC is valued at £9,600,000,000. These, and an additional £4.1 billion in assets under management, bring in nearly £500 million in annual rental income.
Over the past five years, this UK REIT had a return of -15.61% and an annual dividend yield of 4.10%
5-Year Return 24.62%
Dividend Yield (2021): 2.00% 
Sector: Student Living
Unite Group PLC is a real estate investment trust that is investing in student accommodations throughout the UK. This specialisation allowed them to achieve high returns but it is also related to a higher risk than the diversified portfolios.
Student accommodations of the Unite Group can be found in most major UK cities. The UK REIT invested in 162 properties in 23 cities in England, Scotland, and Wales. Therefore, they created apartments and shared flats for more than 70,000 students.
In the last five years, Unite Group PLC had achieved a return of 24.62% and a dividend yield of 2.00%
5-Year Return 31.23%
Dividend Yield (2021): 2.70% 
Sector: Logistics
The fifth largest UK REIT is called Tritax Big Box REIT PLC, with a market capitalisation of £2,919,110,000. As their name suggests, this company is investing in "Big Box" distribution centres. Logistics and industrial were one of the best-performing real estate sectors over the last few years.
With a total portfolio value of over £6 billion, Tritax has invested in 70 different properties throughout the UK. Some of these are new developments, but most logistic centres were already existing. The company works with some of the biggest retailers and supermarkets in the country, including Sainsbury's, Tesco, and Marks & Spencer.
Over the past five years, this UK REIT had a return of 31.23% and distributed dividends with an annual yield of 2.70%.
Conclusion
The UK REIT market has grown quite significantly over the past two decades, since its beginning in 2007. As of today, there are 56 different REITs in the country with a combined value of more than £70 billion. The five biggest ones are Segro PLC, Land Securities Group PLC, British Land Company PLC, Unite Group PLC, and Tritax Big Box REIT PLC. These invest in anything from industrial properties to student housing and can either be diversified or specialised in a particular sector.
If you want to learn more about the future of commercial real estate, including topics such as sustainability & ESG, PropTech, architecture, development and investment, feel free to take a look at our other articles on Smart CRE. Here you will also find insights into the job market and how to start a career in real estate.
To stay up-to-date, we would be very happy if you subscribe to our monthly newsletter. Just enter your e-mail address below. Thank you!
---