Barcelona is a city where over 90% of people have access to high-speed internet. This enables residents to use an app to access more than half a million services from public administration.
The smart city Barcelona also has an extensive network of sensors that can collect data in real-time. Such data include air quality data, noise pollution data, traffic data, and parking data.
All this makes Barcelona a Smart City par excellence. However, what sets it apart from other cities is not only its development but also how it's managed. The city focuses on human-centred smart solutions.
What Makes Barcelona a Smart City?
Barcelona has become one of the leading smart cities by implementing smart transportation systems, wide wifi connectivity, alternative ways of transportation, energy efficiency measures, and citizens' participation.
Start Of Smart Technology For Barcelona In 2001
Barcelona has been at the forefront of smart city innovation for years. It has made significant strides in various technological fields. These include its municipal WiFi network, its pioneering vehicle sharing program, and its large-scale solar energy production,
This Mediterranean metropolis is a leading example of how cities can utilize technology to improve the lives of their citizens.
But what makes Barcelona a smart city? What lessons can other municipalities learn from its success? Let's take a closer look at some of Barcelona's most innovative and successful smart city technologies.
Barcelona started its journey towards becoming a smart city in 2004 when it hosted the Universal Forum of Cultures. The event was an opportunity for the city to showcase its architecture and culture. It also served as a platform for the introduction of new technologies.
After this event's success, Barcelona became serious about using technology to improve its services and quality of life for citizens. It developed a digital roadmap that outlined how it was going to use technology to improve services across different sectors.
However, some key factors have made Barcelona's smart technology possible. Let's take a look at them below;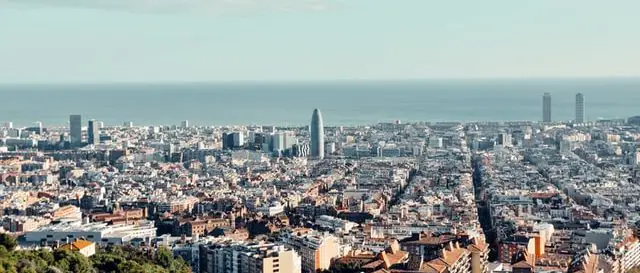 Six Brilliant Strategies That Make Barcelona A Smart City
Barcelona has a wifi network that covers the entire city, meaning people have access to free internet everywhere they go. This makes it easier for tourists to get around and get directions in instances where they would otherwise be lost.
It also provides them with the means to connect with their government and each other. The Wifi network was set up by B Digital company. The B Digital company is the company responsible for managing all digital technology initiatives in Barcelona.
Cities around the world are now competing to be the smartest city in the world. Cities are adopting new technologies, from sensors to smartphones, making their services more efficient.
The Smart Cities Council defines a smart city as one that has "digital technology" embedded across all its functions. Barcelona is one such example. This smart city has been steadily implementing innovative solutions to improve its municipal services.
The city of Barcelona has also made significant investments in transportation technology, particularly, Barcelona's Bicing system. This is a public bicycle sharing system similar to D.C.'s capital bike-share.
This system has proven to be wildly popular. It has nearly 1 million users and over 4,000 bicycles available as rentals at 443 rental stations throughout the city. In 2013 alone, riders took over 5 million trips on bicing bicycles.
3 | Smart Parking and Transportation Technologies
Smart parking technology allows drivers to pay for parking through their mobile devices and reserve spaces in advance. The use of sensors has helped reduce traffic congestion, which has in turn reduced pollution levels. This has improved air quality, making it easier for drivers to find parking spaces.
Barcelona has also invested heavily in providing excellent transportation services to its residents. They have done this by increasing the number of bus lines and metro lines as well. This makes it much easier for people to get around the city.
The availability of bikes has also improved significantly. Subsequently, more bike paths have been created to boost bicycle commuting among citizens.
4 | Energy Efficiency Strategy
Barcelona has been working on improving its energy sector since 2008. This is when Barcelona launched an ambitious drive to make all public buildings more efficient.
It calculated that it could save approximately 4 million euros per year on its electricity bill. The project was so successful that the city adopted it ever since. It now hopes to apply it to residential properties as well.
Barcelona makes use of renewable energy sources to power its buildings. This has significantly reduced carbon emissions and pollution in the city. The city also uses LED lighting in all its neighbourhoods which have made it cheaper to light up public spaces.
Solar panels have also been installed on public buildings, making them self-reliant when it comes to power consumption.
5 | Smart Waste Management
The city of Barcelona has been implementing a smart waste management strategy for several years now. This include's using smart waste bins and recycling centers that allow citizens to recycle their garbage in exchange for rewards. This initiative has been a huge success. This is considering that the number of recycled bottles in the city has increased by 4-5% annually since 2013.
In addition to its smart waste management strategy, Barcelona has also implemented various effective initiatives. These initiatives have made Barcelona one of the best smart cities in the world. They include;
A smart water management system that allows city officials to monitor water consumption and pressure in real-time.
An intelligent lighting system that reduces energy consumption by 25%.
6 | Citizen's Participation
The municipality of Barcelona involves residents in decision-making through social media platforms like Facebook and Twitter. Citizens can now share ideas on how they would like their neighborhoods to be developed.
Active citizen participation is also vital in building a successful smart city. This is because citizens' active participation facilitates a government's response to constantly evolving situations. It also guides governments' on how best to implement changes that concern their citizenry.
The concept of a city is changing. In the past, people lived in cities because of the jobs that were available to them. However, people now live there because of their lifestyle and culture.
People who live in these cities are usually well-educated, productive, and have plenty of disposable income. According to Forbes, there are more than forty cities in America that fit this description. As you might imagine, this is an extremely attractive demographic for marketers.
A smart city has a high quality of life for its inhabitants. People want to be there because of its culture and lifestyle, and not just because there are jobs available.
People who live in smart cities tend to spend more on entertainment and other non-essential items. This is because they earn more money. People living in smart cities pay more taxes than those who don't live in smart cities. They, therefore, contribute more money to the economy than those who don't live in smart cities.
So, what makes Barcelona such an attractive place for people to live?
There are many reasons why Barcelona has become one of the world's most popular destinations for tourists and residents alike. Key among these is Barcelona's perfect location for business travelers. This smart city enables travelers to have access to both Europe, via Eurostar, and Africa, via ferry or plane.
Apart from Barcelona being big in tech companies, it has also seen a rise in startups. These startups carry innovative ideas that are growing and thriving in this environment.
According to statistics, by 2050, 68% of the world's population will live in urban areas. However, the rapid rate of urbanization is expected to cause many challenges for the world's cities, including:
Overcrowding
Lack of infrastructure
Water shortages
Higher levels of pollution
Poor waste management


This means that cities will have to look for ways to tackle these issues. Many people believe that smart technology is the key to solving these problems. Technology has already changed our lives in so many ways – from social media to AI assistants like Siri and Alexa. It can now be used to make our cities more efficient and sustainable too.
In conclusion, what defines Barcelona as one of the smartest cities in the world? That would have to be its decision to use technology to create a better quality of life for its citizens. Barcelona as a city has placed a strong emphasis on changing the way people think about smart technologies. It has used technology as a tool to bridge gaps and not simply treat symptoms.
The innovative approach that Barcelona has taken to embrace new technologies and come together as a community is truly inspirational. While other cities have struggled to adapt, Barcelona has prospered.
However, although smart cities like Barcelona are a great prospect, they still have their downfalls. It is important to find solutions to fix these problems. That is the only way to realize the full potential and benefits that smart cities have to offer. One of the possible solutions is the application of smart technology to curb these problems.
If you want to learn more about smart cities, smart buildings, commercial real estate, PropTech and sustainability, feel free to take a look at our blog.