Timber is becoming more popular in construction these days. With advanced technologies and production methods such as Cross Laminated Timber or Glue Laminated Timber, new records can be achieved with these types of real estate.
Top 7 Tallest Timber Buildings
In the following ranking of the 7 tallest timber buildings in the world, we are only going to focus on modern high-rises. Structures, such as churches or temples that are significantly older will not be included, as they cannot be compared to these commercial and residential properties with their use-case and construction method.
Currently, the biggest timber building, also according to the Guinness World Records, is located in Norway and called Mjøstårnet. It has an architectural height of 85.4m and consists of 18 floors with a total area of 11,300 m². The building is a mixed-use property with offices, apartments, hotels, a restaurant and a swimming hall.
Mjøstårnet has been completed in March 2019 and was designed by the Norwegian architecture studio "Voll Arkitekter". For most of the structure, Cross Laminated Timber (CLT) and Glue Laminated Timber (GLT) have been used. Only the floor slabs from the 12th floor and above are made from concrete.
The building has shown what can be achieved with timber construction and gives an outlook into the future of sustainable real estate.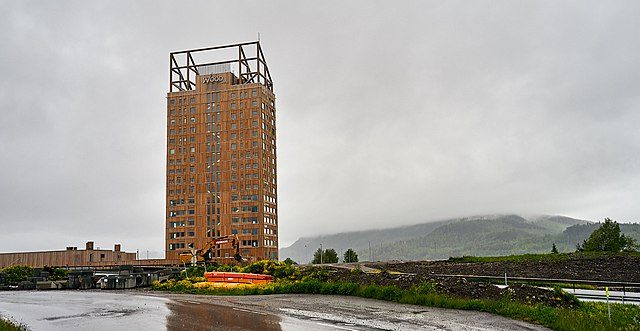 Only 1.5 m smaller than Mjøstårnet follows HoHo Vienna in the ranking of the tallest timber buildings in the World. The 84 m high-rise in the capital of Austria has been built between 2016 to 2019 and received its modern, sustainable design by the architecture studio "RLP Rüdiger Lainer + Partner Architekten ZT GmbH". Just as the previous building, HoHo Vienna is a mixed-use building with offices, apartments, restaurants, a gym and a hotel.
The 24 floors have been built using Cross Laminated Timber and in total the building consists of 75% wood. The estimated construction costs amount to around €65 million and because of the sustainable design as well as its uniqueness, HoHo Vienna has received many awards.
3 | Sara Kulturhus Centre - 75 m
"Sara Kulturhus Centre" or "Sara Cultural Centre" is a 75 m timber building, located in Skellefteå, Sweden. The building is a landmark of the city and with its 30,000 m² of floorspace, houses many different cultural facilities such as a museum, theatre, art gallery, library and even a hotel. 
The high-rise has been completed in 2021 and was designed by "White Arkitekter". Similar to the previous places, Sara Kulturhus Centre has been constructed with a mix of Cross Laminated Timber and Glue Laminated Timber. Because of the sustainable materials, transportation and energy usage, the building is supposed to be carbon negative throughout its lifespan.
4 | Brock Commons Tallwood House - 53 m
Place number 4 of the tallest timber buildings in the world is the "Brock Commons Tallwood House" with 53 m. The tower is located in Vancouver, Canada and is currently owned by the University of British Columbia as a student residence.
The 18-story building from Acton Ostry Architects has been opened in 2017 and has space for more than 400 students with studios and shared flats. Thanks to its structure of prefabricated timber components with CLT and GLT, sitting on top of a concrete foundation, Brock Commons Tallwood House was able to achieve the LEED Gold Certification. 
5 | Treet (The Tree) - 49 m
"Treet" or "The Tree" is a 49 m apartment building that can be found in Bergen, Norway. It is made out of several modules that are stacked together for construction. After several parts have been connected, they are secured by a supporting framework as the outer shell. This design came from the Norwegian architecture studio Artec. Treet has been completed in 2015 and uses a mix of CLT and GLT. The 14-story building creates space for 62 residential apartments, which all meet passive house standards and thus positively contribute to a more sustainable real estate industry. 
6 | Dalston Lane - 33.8 m
Number 6 in our ranking of the tallest timber buildings in the world is the so-called "Dalston Lane". It is located in London, United Kingdom, and is a 10-story mixed-use property with apartments, offices, restaurants and a gym. It has a height of 33.8 m and is one of the few projects so far that is completely located and integrated into the urban environment.
Dalston Lane was constructed using Cross Laminated Timber CLT, which got thinner the higher the building is. This allows the project to add another 3 floors on top, which would not have been possible if concrete would be used. The architects for Dalston Lane, completed in 2016, are from "Waugh Thistleton".
7 | Forte Living - 32.2 m
The first timber building in this ranking that is located in Australia is called "Forte Living" and its 10 floors give it a height of 32.2m. It is a residential property with 23 apartments and has been one of the first modern timber high-rises in the world with its completion date in 2013. The architecture studio for the project is Lendlease Australia.
Forte Living has received a 5-Star Green Star rating and contributes to a more sustainable environment by storing 761 tonnes of CO2 during its construction, as well as 1,451 tonnes for its operating phase (compared to a concrete or steel building). 
Unfinished and Not Started Projects
There are many new projects and development proposals that show the ambitious future of timber buildings. Here you can find a selection of three interesting tall timber development projects.
W350 is supposed to be the tallest timber skyscraper in the world, as well as the tallest skyscraper in general located in Japan. The building is supposed to be completed by 2041, with 70 floors and an estimated development cost of about €4.7 billion. 90% of W350 is supposed to be timber, while a small amount of steel will also be used to improve strengths for protection against strong winds and earthquakes.
The Dutch Mountains I - 130 m
Just as the name suggests, "The Dutch Mountains 1" are a project of two large connected skyscrapers with a maximum height of 130m, located in Eindhoven, Netherlands. It will be constructed by using a mix of Cross Laminated Timber, as well as concrete and is designed by Studio Marco Vermeulen.
"WoHo" or "Wohnhochhaus" is a sustainable and social timber development by UTB and the architects Mad Arkitekter, which is going to be constructed in Berlin, Germany. It has a height of 98 m and a total floor space of 18,000 m². The mixed-use building will create space for offices, apartments, social spaces and restaurants/cafés. The construction of this hybrid building with CLT and concrete is estimated to start in 2024.
Buildings such as Mjøstårnet and HoHo Vienna have shown how the use of sustainable timber can create large-scale, tall properties that will help to improve the environment. We expect that timber construction will advance even further and at a faster pace in the upcoming years so that these buildings will be fully incorporated in urban places.
If you want to learn more about sustainable buildings, smart cities and PropTech, feel free to take a look at our other articles.