If you are interested in sustainability in the built environment you have most likely heard of green building certifications like LEED or BREEAM. These focus on creating structures that are highly energy efficient, promote a circular economy and have minimal carbon emissions. While these enable sustainable construction and set new standards to compare buildings, there is another certification with a particularly different principle. 
This one is called WELL and is provided by the International WELL Building Institute (IWBI). Find out what the WELL certification is, what levels can be achieved and what changes are required for your properties.
What is the WELL Certification?
The WELL Building Standard is a building assessment method that has the goal of improving health and wellness of occupants. The research-backed standard requires developers and building operators to enhance their indoor spaces according to seven key categories: Air, Water, Nourishment, Light, Fitness, Comfort, and Mind. In the new V2 certification, additional features also include sound, materials, community and innovation.
What is the Purpose of WELL?
Delos Living LLC is the company behind the health certification and has also founded the International WELL Building Institute in 2013, which manages the assessment process. The purpose of the standard is to put emphasis on people's health and wellness within buildings and communities. 
Thanks to research in different fields including healthcare, environment, and occupant behaviour, the institution was able to create a comprehensive guideline that considers how building design and technology impact health. Finally, in 2014 the first version of the WELL building standard was launched. Since then, a couple of years later in 2020, the second version has been released which includes even more research findings and new requirements.
What Does WELL Stand For?
Other sustainable building certifications have a meaning behind their name such as LEED, which stands for "Leadership in Energy and Environmental Design" or BREEAM, which stands for "Building Research Establishment Environmental Assessment Method". WELL on the other hand is no abbreviation for a long term and is just related to the WELL Building Standard, by the WELL Building Institute.
What are the 4 WELL Certification Levels?
According to the new V2 WELL Standard, there are four different levels that a building can achieve depending on its performance in the key categories. These levels are Bronze, Silver, Gold, and Platinum.
The 4 Levels of WELL Certification
Bronze – 40 points
To achieve the first certified level, a building needs to reach at least 40 points in the assessment process.

Silver – 50 points
With more investments into people's health and well-being of a property and its indoor space, it will be possible to reach the WELL silver certification with a minimum of 50 points.

Gold – 60 points
If a property manages to achieve all the pre-required features, as well as a number of optimization goals, it can receive 60 points for the gold level.

Platinum – 80 points
The highest possible level in the WELL certification method is platinum, with a minimum of 80 points. There are only a handful of buildings in the world that were able to achieve this score and thus push real estate companies towards creating even better buildings. Platinum-certified properties are able to combine important health and well-being features in the most effective way by enhancing aspects like air quality, natural light, and water quality.

WELL Certification Requirements
As mentioned previously, there are up to 10 key categories that developers and companies must consider in order to receive the desired WELL certification level. Each of these can be divided into preconditions and optimizations. Preconditions are fundamental features that must be met in order to receive any kind of ranking from the WELL Building Institute. Optimizations are optional but will be crucial in order to achieve very high certification levels, such as Gold or Platinum. The more of these features a building can incorporate, the better the score it will obtain.
The following requirements are included in the WELL V2 ranking, which has been updated in the last quarter of 2022. If you are looking towards creating a WELL-certified building, it is important to keep the following categories in mind.
1 | Air
To achieve high levels in this aspect, buildings must mainly improve their indoor air quality. This can be achieved by prohibiting smoking in and around the property, having an efficient ventilation system, and making sure to reduce pollution during construction. Other optimizations for this category can include air filtration, better air supply, air monitoring and control of mould.
2 | Water
Another important part of the WELL certification is related to water. Preconditions are to provide drinking water, have water quality control, and effectively manage the risk of a reduction in water quality. Further steps can be the promotion of drinking water over other unhealthy alternatives, reducing leaks and moisture, and providing hygienic bathrooms.
3 | Nourishment
In order to have a healthy environment for occupants, good nutrition and food must be promoted. While this might not sound like a building-related issue, there are a number of steps that operators can take to improve it when offering food inside their spaces. These include making fruits and vegetables available and providing transparent information on nutrition. 
There are many optimization features in this category such as choosing healthy ingredients and portion sizes, educating on nutrition, providing food alternatives, using sustainable products, and more.
4 | Light
To achieve a high score in the light category, exposure to daylight must be improved and indoor lighting should be comfortable for occupants. Optimizations can include the simulation of daylight, using high-quality light sources, and providing individualised lighting controls for people.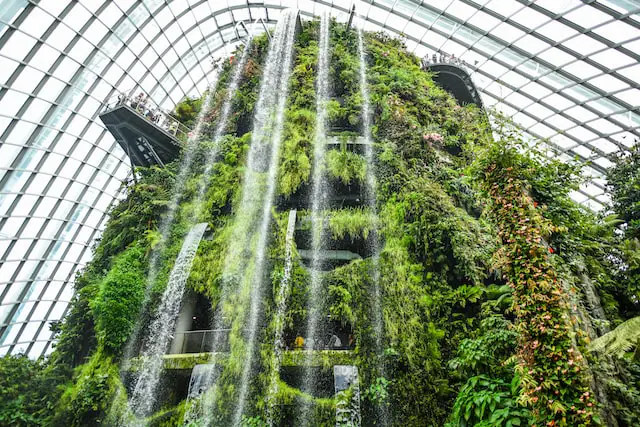 5 | Movement & Fitness
It is also important to promote movement within properties in order to create a healthy environment. This can be achieved by offering fitness and physical activities to occupants and creating ergonomic workplaces within offices. If you are aiming for one of the highest WELL certification levels, other aspects can include increased usage of stairs, having gyms or other facilities on site, partnering up with local gyms, and promoting physical activity.
6 | Thermal Comfort
Category number six is called thermal comfort and is mainly concerned with HVAC systems. It is essential to guarantee a temperature level that is comfortable for most occupants. In addition, individual zones can be used, performance can be monitored, and humidity controlled to achieve higher levels.
7 | Sound
An important factor for the health and well-being within buildings is the sound and noise levels. A precondition for this part is to create sound maps that show how noise is distributed throughout a space. To improve this feature even more, building operators can introduce sound barriers, reduce background sound, and utilise modern audio devices.
8 | Materials
Also, construction materials can have an impact on health. Therefore it is necessary to reduce any human contact with hazardous materials. Optimizations can include sustainable waste management, reduction in the usage of certain materials, and optimization of existing ones.
9 | Mind
Another category that is not directly related to real estate but highly important for a person's well-being, is the mind. Real estate companies and businesses must have mental health support programmes in place for their occupiers and need to incorporate aspects of nature into their properties. Furthermore, help and education concerning mental health, stress, and substance use can be introduced to improve the WELL certification score even more.
10 | Community
The last essential category of the WELL Building Standard is called "community". Here, it is important to include occupants and people in projects, design decisions, and surveys to enhance the overall experience of a building. To get a good score in this field, it is vital to include people and residents in the decision-making process, understand their needs, and provide the required support. This can include help for new parents, mothers, families, health, emergencies, accessibility, and more.
Bonus | Innovation
Innovation is not an entire category itself as there are no preconditions to this feature. This part leaves room for creative and novel solutions that have not been used in other sections of the WELL building standard. One way to score in innovation is by having a green building certification for the property. These include, for example, LEED or BREEAM. 
Conclusion
The WELL Building Standard is significantly different from other certification methods like LEED or BREEAM. It focuses on the health and wellness of people that live or work within a property. Therefore, the requirements to achieve a high level are also distinct and include aspects such as nutrition, mind, and fitness. There are 4 levels of WELL certification that one can receive: Bronze, Silver, Gold, and Platinum.
If you want to learn more about the future of commercial real estate, including topics such as sustainability & ESG, PropTech, architecture, development and investment, feel free to take a look at our other articles on Smart CRE. Here you will also find insights into the job market and how to start a career in real estate.
To stay up-to-date, we would be pleased if you subscribe to our monthly newsletter. Just enter your e-mail address below. Thank you!
---